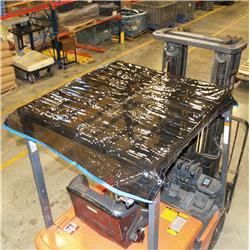 | | |
| --- | --- |
| Product name | Tinted 48x40 Forklift Rain & Sun Cover |
| Brand | INTELLA |
| Code/SKU | 00589352091 |
| Weight | 2.20 POUNDS |
| Warranty | 6 months |
Are you tired of using whatever you have lying around to protect your forklift from rain and sunshine?
You know what we mean. That's a garbage bag. Don't use a garbage bag. Intella has a solution for you.
Now introducing the amber forklift rain and sun cover! This cover uses simple cords to tie down to the overhead guard of any forklift, protecting the forklift and its driver from both rain and harsh sunlight while still maintaining visibility. This is an inexpensive alternative to other forklift covers that only fit certain models of forklift.
How does the forklift rain and sun cover work?
In weather that already limits visibility, it is crucial that a driver doesn't sacrifice his own safety, the safety of those around him, or the safety of his vehicle by obscuring his view with an opaque cover (like a garbage bag). The same reasoning applies in bright sunlight, too bright of light can hinder a driver's ability to see clearly, but blocking the sun entirely means blocking the driver's upward visibility. And of course, no forklift operator wants a cover that is heavy and difficult to install when needed. That's where the amber forklift rain and sun cover comes in. It protects the driver and the forklift from rain and harsh sun rays, but it doesn't obscure the driver's view. And, coming in at less than 2 pounds, it's the perfect weight and size for easy storage and installation.
How do I install the forklift rain and sun cover?
The cover is extremely easy to install. Its simple design uses four white cords that line up with the corners of your forklift's overhead guard to stay secure. These cords can either be anchored to the frame of the forklift, as shown in the photos above, or they can be intertwined around the overhead guard and tied to one another for added security. There are no special steps - anchor it as you see fit for your vehicle! That's how versatile this rain and sun cover is. Plus, with its extra-large size, it will always be the right fit for your truck!
Forklift rain cover specifications
Made of flexible and durable amber plastic, approx. 0.03 thick
Edged with a durable black plastic border, stitched down, approx. 0.1 thick and 0.6 in width
Approx. 48 by 40 in size, enough to cover almost any overhead guard
Only 1.60 pounds, making it easy to transport and carry
Anchored with four 30 plastic-fiber cords, 0.1 in diameter
Some helpful tips
If any rain starts to pool on the cover, simply put some foam or rubber underneath the cover on top of the overhead guard. Remember not to obstruct the operator's upward view when doing this.
If you're looking for a cover that's a bit smaller, we also offer this cover in size 40 by 40.
Part supplied is an aftermarket item.
---
Watch Our Video
The aftermarket tinted 48x40 forklift rain & sun cover, performs as well or exceeds the performance of OEM parts while keeping affordable pricing.
Intella offers fast and reliable shipping across the US and Canada with next day delivery available when needed. Click on the shipping tool above to calculate the delivery cost of your tinted 48x40 forklift rain & sun cover. Feel free to contact us at 616-796-6638.
With an extensive catalog of parts we are sure to have the right aftermarket part for your needs.
---
Other items you might be interested in...
We want to make sure you order and receive the right part to fix your forklift. Please review the return policy before and click the box on the prior screen before ordering. If you have any questions at all, please call us 616-796-6638; we can help ensure you order the correct electronic part for your forklift.
To start a return we will need your email, order number, part number and reason for return. Please email us with this information to begin the return process.
If you click on the box you recognize:
All electrical parts/components are subject to internal damage that may be apparent or tested for. Such damage can be the result of improper handling/installation or subjecting the part to adverse environmental conditions (heat, static electricity). For this reason, all electrical parts/components are NON RETURNABLE.
On items that are eligible for return, return authorization is mandatory before returning product to our warehouse.
Returns must be made within (30) days of you receiving an order and by prior approval. Parts must be returned within 7 days of receiving authorization to return a part.
If your order is damaged in the process of being delivered by any carrier (UPS, USPS, FedEx or Trucking Co, etc), they are responsible. Examine all goods upon receipt for possible shipping damage and report any such damage to the carrier immediately. Keep all the packaging from the damaged shipment as the carrier may need to examine it in the claims process.
Restocking fee is 25%.
Package items to protect the original factory packaging so that they arrive here in perfect condition to be put back in inventory as new merchandise.
Refunds for shipping charges will only be if we shipped the wrong merchandise.
Special order items that we do not stock are not returnable.
Paint is non returnable
Gasket sets are also non returnable once they have been opened.
All electrical parts/components are subject to internal damage that may be apparent or tested for. Such damage can be the result of improper handling/installation or subjecting the part to adverse environmental conditions (heat, static electricity). For this reason, all electrical parts/components are NON RETURNABLE.
Once any item has been installed or used it is not returnable for a refund, and can only be exchanged under our warranty policy
More Policies
See all of our policies on our Policy Page